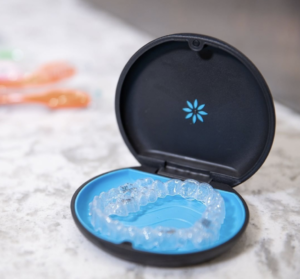 Most people consider their middle and high school years the period in which they should get braces and or retainers, however, the majority could benefit greatly from seeking orthodontic treatment well past the teen years.
For those in their 20s and 30s, Invisalign is their best bet for an easy, non-invasive teeth-straightening . Invisalign is advanced, cosmetic, effective, comfortable, hygienic, and very cost effective. There are several easy payment plans as well. Invisalign benefits adults as they don't have to change their lifestyle.
Invisalign Benefits
No diet restrictions
Now this is a big perk. With braces, only certain foods are allowed, and you must avoid foods that could break or loosen the brackets. With Invisalign, all you need to do is remove the clear trays, feast on whatever food You desire, then rinse and just pop them back on when you're finished. Eat what you want, when you want.
Extremely Hygienic
Braces are hard to keep clean. You need to use a specific flossing tool to get around the wires and around the brackets, and be extra careful when brushing your teeth. With Invisalign, pop them out and brush and floss to your heart's content. You can also clean the plastic trays with greater ease than you would braces. Typically, you can clean them with just a toothbrush and some soap or other cleanser, and put them back on for a greater freshness.
Easier Check-Ups
When you have braces, adjustments take longer, they are more frequent, and involve tightening the braces and or wires. . With Invisalign, you don't even have to go anywhere–your visits can be completely virtual, which is especially useful during a pandemic.
Reducing Risk of Disease and Decay
When you have straighter teeth, you reduce your risk of suffering from gum disease and tooth decay as you get older. Invisalign is not just an investment in the cosmetics of your smile, but also an investment in your overall health. It is always best to spend time and money in prevention of disease,
Receiving Invisalign treatment will be one of the best investments you can make in yourself. An investment which will pay dividends for years to come in form of a more confident smile, more success in your career, and healthier and more comfortable and longer lasting bite, teeth, and gums.
Invisalign is also ideal for those who have never had orthodontic treatment as well as those patients who have experienced some relapse after an earlier treatment with braces. Invisalign, with the help of our iTero scanner, can also treat very complex orthodontic cases as well.
Let us show you how easy it is to achieve your dream smile.
Contact Firouz Orthodontics
Firouz Orthodontics
(Maurice Firouz, DDS)
Address: 11645 Wilshire Blvd Suite 1060
Los Angeles, CA 90025
Questions?
We encourage you to contact us with any
questions or comments you may have.
Please call our office at (310) 447-5790
Email: info@firouzorthodontics.com
Office Hours:
Monday – Friday 9:30AM – 5:30PM
Tags: invisalign, invisalign treatment