In the event of any braces emergencies, these methods are meant to be temporary until an orthodontist can be reached.
True orthodontic emergencies are rare, but when they occur doctor Firouz is the emergency orthodontist available to you (day or night). As a general rule, you should call our office when you experience severe pain or have a painful appliance problem you can't take care of yourself.
You might be surprised to learn that you may be able to solve many braces emergencies yourself temporarily until you can get to our office. Below are a list of possible braces emergencies and some at-home solutions.
Braces Emergencies
Sharp Braces Wire – It is best to cover the braces wire with some soft wax provided by the orthodontist until the patient can be seen at the office to have the wire trimmed. If the braces wire is accessible, sharp nail clippers can cut the braces wire. 
Broken Bracket Braces – This can often happen if the patient bites into something hard or the patient has a deep bite causing the brace or bracket to get unglued from the tooth. Often the broken brace will stay on the wire and may even slide from side to side. If the affected tooth is not moving out of alignment, the loose brace can be kept in place until the next scheduled appointment.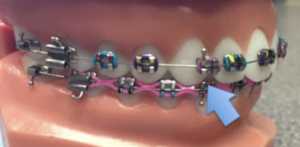 Broken Brace Wire – A broken wire should be replaced as soon as the patient can schedule an appointment at the orthodontic practice.
Lost Orthodontic Separators – A lost orthodontic separator is  common for most patients during treatment. Most of the time separators do not need to be replaced. Please call our office if you lose a separator so we can determine whether or not you need to have it replaced.
Loose Bracket – If a bracket or band is causing discomfort and you are unable to get to our office, slide the bracket off the wire and call our office on the next working day to schedule an appointment to have it replaced.
Loose Band – A loose band can be kept in place until the scheduled appointment, however, it is best to re-cement it as soon as possible as it can contribute to gum inflammation and tooth decay.
Inflamed and Sore Gums – This is often caused by poor brushing and insufficient flossing. It is best to brush the gums gently, floss regularly under the wires, and rinse with warm salt water two or three times daily.
Lost Orthodontic Retainer – If you lose your removable orthodontic retainer, you must contact the orthodontic practice immediately and make arrangements for a replacement as soon as possible, as the teeth can shift quickly, particularly if the braces were removed recently.
Broken Permanent Retainer – What Should You Do if You Break Your Permanent Retainer? If you accidentally break your permanent retainer, you must contact the office immediately and make arrangements for a repair or replacement as soon as possible.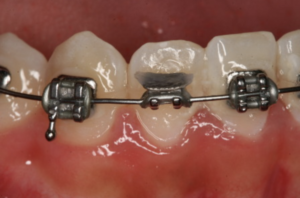 Very tight or uncomfortable aligners – This is often due to insufficient wear of previous aligners or not enough hours of wear during the day. It is often best to go back to the last best fitting aligner until the orthodontist can evaluate you. That is why it is best to keep a couple of previous aligners and not to throw them away after they are worn.
Lost attachments or buttons – It is often not necessary to replace a lost attachment or button immediately as the aligners continue to fit well. Keep your next scheduled appointment and inform the orthodontist about the lost attachment.
Lost Invisalign Aligner – If you are at least half way through wearing your current Invisalign aligner and you lose it, you can often safely go to the next aligner if you have it in your possession, or you can pick up the next aligner as soon as possible from the orthodontist. If the next Invisalign aligner does not fit or it is too tight, you should wear your previous aligner and contact the orthodontic practice to have them order you a replacement aligner/s.
💻 https://www.firouzorthodontics.com/
📍 11645 Wilshire Blvd. #1060, Los Angeles, CA 90025
📱 310-447-5790
📧 info@firouzorthodontics.com
Instagram: @firouzortho Facebook: @Firouz Orthodontics