Orthodontics Specialist – Maurice Firouz, DDS
Dr. Maurice Firouz,  is one of the leading orthodontics specialist  in West Los Angeles. He is currently practicing clinical orthodontics with particular emphasis on craniodental development. He is also an Invisalign Premier Preferred certified provider.
To earn the designation of an Invisalign® Gold Plus Provider, Dr Firouz  had to conduct a minimum of 50 total cases as well as continue to treat at least 25 cases every six months. 
Training for Orthodontic Specialists
Upon graduation from Beverly Hills high school with honors, Dr. Firouz attended UC Irvine. His major was biological sciences, paving the way to become an. He then received his Doctor of Dental Surgery degree from UCLA, having graduated with numerous honors and awards. During that period he was the Treasurer for Alpha Omega Dental Fraternity.
After gaining his doctorate, Dr. Firouz enrolled in the orthodontics program at the University of Connecticut Health Center, completing a rigorous program with an emphasis on research, and the physics of tooth movement. Along with his orthodontic practice, he was a member of the admissions committee.
Professional Practice
Upon completion of his orthodontic residency, he was offered a position as a lecturer at UCLA School of Dentistry, Department of Orthodontics. At the time, Dr. Firouz was the youngest faculty member at the age of 24. In that capacity, he was the chairman of the orthodontic lab course and taught orthodontic principles to dental students and graduate residents.
Additionally, he has lectured to professional dental organizations and held volunteer positions at the Assistance League of Upland, and at the UCLA Venice clinic. His research has been published in the American Journal of Orthodontics.
Dr. Firouz has successfully treated over 10,000 adults and children over the course of his career, with complex cases involving orthognathic surgery, orthopedic development, preventive orthodontics, and adult and teen Invisalign.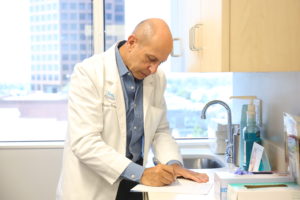 As an orthodontics specialist and advisor, Dr. Firouz has been instrumental in the success of numerous multimillion dollar clinics. He has acted as the clinical and quality control consultant to very large dental corporations. He is currently practicing orthodontics in Brentwood, Beverly Hills, Montebello, and Alta Loma.
Dr. Firouz belongs to many professional organizations including the American Association of Orthodontists, California and American Dental associations to name a few.
Meet Your Orthodontics Specialist
He is married with three children, and during his spare time he enjoys basketball, swimming, and traveling.