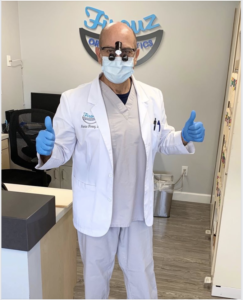 Firouz Orthodontics is now taking out Invisalign Treatment virtual by NOW OFFERING VIRTUAL CONSULTS + SEEING EMERGENCY PATIENTS ONLY.⁠
In order to protect the safety of our patient's and our staff, our office is now only open for emergency patients.⁠ We are, however, offering virtual consultations, and can be reached through office phone, text, email, Facebook and Instagram messaging on a daily basis. ⁠
PRECAUTIONS WE ARE TAKING
We do not allow any patient or staff member with any symptoms into the office.

All patients and staff sanitize hands before they come into the treatment area.
Only the patient and staff are allowed in the treatment area, No Spouses, No kids, etc.

In addition to our regular cleaning, we are sanitizing every all all services routinely and more frequently. This means our instruments too.

We are supplying all of our staff with PPE equipment for staff to feel safe and to keep our patients safe. 
Here are a few recommendations for our patents:⁠
⁠⁠INVISALIGN PATIENTS⁠
✔️Continue to wear your Invisalign aligners as scheduled⁠
✔️If you complete your Invisalign aligners, wear the last one in your possession at least at nights until we can send you your next set of Invisalign aligners.⁠
✔️If possible, we can try to mail you the next few aligners.⁠
✔️Please wash your hands thoroughly every time you remove and place the aligners.⁠
BRACES PATIENTS ⁠⁠
✔️Maintain excellent hygiene especially when you floss and brush⁠
✔️Use wax for any minor brace emergencies
✔️Avoid all hard foods to minimize orthodontic emergencies⁠
✔️If there is a loose brace or a poky wire please contact us and share a photo so we can advise you on how to best deal with this situation.⁠ If we need to get on a Virtual meeting that can be arranged. 
✔️If the problem persists, we will make arrangements to see you and make sure you are comfortable⁠.
ORTHODONTIC RETAINER PATIENTS ⁠
✔️Please continue to wear your orthodontic  retainers only at nights in order to minimize the potential for lost retainers and to maintain your correction.⁠
✔️Do not wrap your retainers in a napkin or paper towel.⁠
✔️Brush your retainers on a daily basis to keep them clean.⁠
✔️ In case you have a lost or broken retainer, please contact our office for urgent arrangements.⁠
⚠️ And remember to wash your hands thoroughly prior to handling any of your orthodontic appliances. ⁠
The quickest way to reach us is by calling 310-447-5790. ⁠
If our receptionist is not available during your call,⁠ a text message will be sent to your phone allowing you to communicate with us immediately via text.⁠
We are here for you to make sure that your urgent needs are taken care of until there is clarity as to when the ADA and CDA can safely recommend for us to begin seeing patients. ⁠
WE ARE ALL IN THIS TOGETHER!