Invisible braces have been a desired alignment treatment for over 20 years. Those clear retainers that can be inserted and removed at any time, and are much less obvious than traditional braces. Invisiline, Invisalign, or Invisalign!? All over the globe, it is no secret that Invisalign is a reliable alignment innovation, widely preferred over traditional metal braces.  
Invisalign Process
Patients who are exploring the market for Invisiline, Invisaline, or Invisalign braces should first understand how the process works.
To begin, you will consult with an orthodontist or dentist, who will examine your teeth and develop a plan for your Invisalign aligners. Doctor Firouz will provide a digital scan of your teeth for your personalized treatment plan.
Once the invisible aligners have been customized to perfectly fit your teeth, your Invisalign journey begins! For best results, aligners can be taken out for up to two hours a day. Enjoy your favorite foods, and brush and floss your teeth like normal.
Aligners typically last one to two weeks before teeth shift and require a new set. While you will continually get shipments with new aligners in the mail, you will only have to meet with your dentist every two months. 
You can expect mild soreness the first few days, don't worry! This means your teeth are shifting into position!
New Invisalign Solutions
Invisalign® First is the latest addition to Invisalign's product line. These invisible braces cater towards baby teeth, so that younger kids now have an added head start in the teeth straightening process. 
Insights in the orthodontic industry have proven that treatment between the ages of 6 to 10 is an optimal starting point. Invisalign refers to this stage of treatment as  Phase 1. It works well with your child's development to straighten teeth as they grow in!
Invisalign® First
Parents of children in Phase 1 prefer Invisalign® First treatment for reasons that may seem obvious. Many patients have the intention of avoiding metal braces altogether. 
Invisalign First works with the child's growing mouth to provide alignment in potential alignment issues including arch development, expansion, tooth placement and direction. Overall, Invisalign® First has been designed to enhance the child's smile. 
Phase 1 is a distinctive time to begin the teeth straightening process because the jaw is still growing. Because of this, certain issues could be prevented from even happening. 
Designed specifically for young children, Invisalign® First is only available for children. Teens and adults seeking invisible aligners should explore alternative options including Invisalign Teen, Invisalign Full, or Invisalign Express.
Dental Arch Expansion 
Invisalign® First functions through the orthodontic process of dental arch expansion. The overall goal of dental arch expansion is to widen and adjust a child's dental arch. Invisalign aligners will gradually push teeth in order to expand the width of the dental arch. Since this product caters towards young teeth, candidates include any child that may have crowded teeth or a narrow dental arch.
The initial consultation with the orthodontist is extremely important. Here, the doctor will take images, scans, and x-rays of the child's teeth. The orthodontist will study their individual tooth and jaw structure in order to develop a completely personalized care plan for each patient.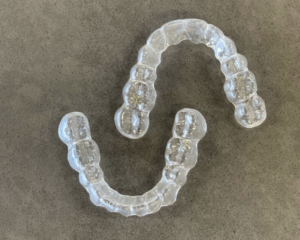 Is my child a good candidate for Invisalign® First?
Invisalign® First provides a range of benefits for patients with growing teeth, hoping to get a jump start on the teeth alignment process. The process works for a variety of mouths, from narrow dental arches to crowded teeth. Because of this, parents can trust Invisalign® First as their child's first set of invisible braces. 
The American Association of Orthodontists (AAO) advises children visit an orthodontist by the age of seven. 
Designed specifically for the growing mouth of a pre-teen, Invisalign® First is the alignment solution for ages 6-10. A consultation with a dentist or orthodontist will confirm this is the best choice for your child. 
New Patient Services 
At Firouz Orthodontics, we encourage potential new patients to complete an online form to schedule an appointment with us. Additionally, you will be able to complete a bundle of new patient forms online prior to your visit in order to save time on the day of your appointment.
Tags: invisalign, invisalign treatment, invisaline, invisiline